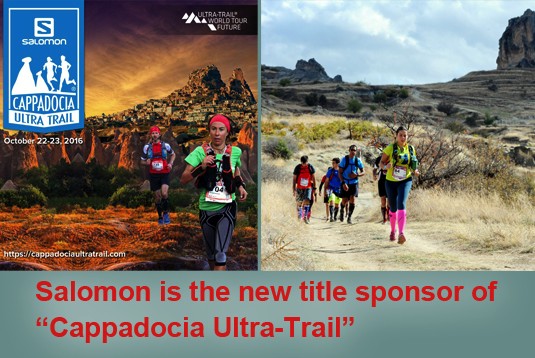 Cappadocia Ultra-Trail® vies to become one of the spotlight ultra marathons in the World. Bringing a new dimension to trail running with Cappadocia's unique nature and sports friendly features. The race, with the title sponsor Salomon, will be held on 22 and 23 October 2016. Last year Cappadocia Ultra-Trail® hosted 752 runners from in-country and abroad, and has 5 times that number of participants in its second year. The organisation which has been been nominated as a "Future Event" in Ultra Trail World Tour schedule, will carry the official title "Salomon Cappadocia Ultra-Trail®" this year.
The Salomon brand, originated in the French Alps in 1947, is one of the leading brands in the sector with its technology based sports equipment. Focusing on running, climbing and winter sports Salomon offer a wide variety of product ranges in sportswear and accessories. Salomon has supported trail running with sponsorships for events, elite athletes and teams for a number of years. The "Salomon Ultra Pirineu" and "Salomon Zugspitz Ultratrail" are two of the international trail races sponsored by this brand. Salomon also sponsor Elena Polyakova, the first overall winner of The Cappadocia Ultra-Trail® race in 2015 and for first time they have signed-up to become the title sponsor of an International Ultra-Trail® race in Turkey. The Salomon Cappadocia Ultra-Trail® 110 K, is the longest course of the Cappadocia Ultra-Trail®, 2016. It feaures 3340 m+ ascent and 114 km ITRA certificated trail to be run in the unique geography of Cappadocia, an area registered in the UNESCO World Heritage List.
Registrations continue
Runners from 6 continents and 45 countries around the World registered to Cappadocia Ultra Trail. Registrations continue.
Salomon Cappadocia Ultra-Trail® is organized by Argeus Travel & Events.