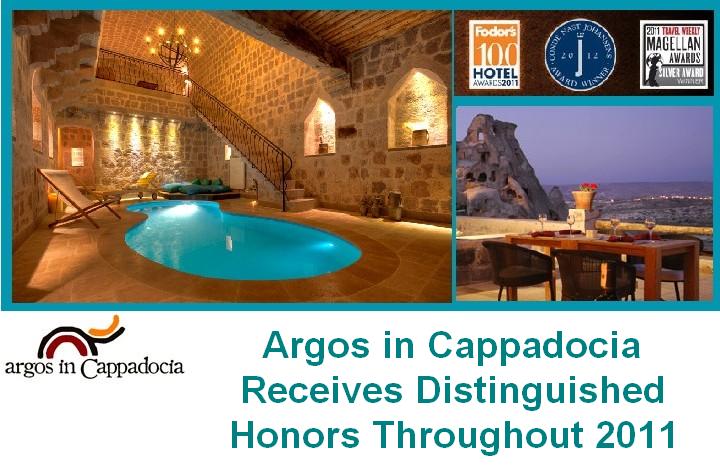 By Funda Çetin
Argos in Cappadocia, the unique boutique hotel built in historic tunnels and cliff caves in Cappadocia / Turkey, ends 2011 on a high note, with three new hotel distinctions from renowned publications around the world including Travel Weekly, Fodor's Travel Guides and Condé Nast Johansens.
"With distinctions such as a Top 100 Hotel for Local Flavor, Top Luxury Hotel and a hotel with the Most Excellent View, Argos is proud to be considered among the world's leading accommodations in 2011 and beyond," said said Mr. Gökşin Ilıcalı, the hotel's Managing Partner.
Argos's 42 spacious rooms and suites were created from ancient cave dwellings and its meeting space is the underground, 2,000-year old Bezirhane Monastery, providing an authentic experience of the lifestyle of Cappadocia. In 2012, the hotel is planning t launch the Monks' suits, valley-pool and a new Hamam/spa at the property.
Below are highlighted some of the recent award recognitions for the Argos in Cappadocia Hotel:
2011 Silver Magellan Award - Travel Weekly
Argos in Cappadocia was honored with Travel Weekly's 2011 Silver Magellan Award in the Luxury Hotel and Resort category, ranking it among the top luxury hotels and resorts from around the world. In November, the award was announced by the publication, one of the leading sources for news and analysis in the U.S. travel industry.
Fodor's 100 Hotels - Local Flavor
Fodor's, the leading name in travel guides, recognized Argos in Cappadocia in its 2011 Fodor's 100 Hotels selection. The distinction designates Argos as an outstanding hotel as selected by Fodor's editors and travel experts, highlighting the incredible environment, excellent service and beautifully designed accommodations that make every stay unforgettable at this luxury cave hotel. The hotel was selected for its Local Flavor Award that showcases a property that offers a truly authentic experience of its region. The people of Cappadocia have lived in cave dwellings and underground cities for over 15 centures. Few hotels in the world can match the luxurious cave guest rooms at Argos in Cappadocia, some of which have their own private pools as well as terraces that overlook the spectacular scenery of the region.
Condé Nast Johansens - Most Excellent View
Condé Nast Johansens announced in November the Awards for Excellence winners for Europe and the Mediterranean. Argos in Cappadocia received the "Most Excellent View" recognition for the hotel's panoramic views extending from the foothills of Uçhisar Fortress to Güvercinlik Valley and majestic Mount Erciyes in the fairy-tale inspired heart of Cappadocia. The An international mark of distinction, the awards are based on combined results of the Condé Nast Johansens online voting system, guest survey reports and site inspections. Trusted for 30 years, Condé Nast Johansens is the leading independently produced multi-media source for today's traveler, sourcing hotels, spas and venues for leisure and business in the UK, Europe and the Americas.
The Argos in Cappadocia has been honored by travelers and leading authorities alike
Travel + Leisure readers voted it among the 45 Best Hotels in the World in 2010. TripAdvisor gave it the highest possible score in awarding the Certificate of Excellence and it was a finalist in 2011 for the "Most Romantic Hotel" category from Condé Nast Johansens, which also gave it a Green Award in 2010, the only hotel in Turkey to gain both of these important awards. Arkiparc presented the Argos with the 2011 Real Estate Development Award based on the hotel's unique location, its aesthetic appreciation of the surrounding landscape, its interconnected living spaces, outstanding design and sustainable environmental sensitivity. Martha Stewart featured the hotel in her "Adventures in Turkey" television special, based on a personal stay at the property.
About Argos in Cappadocia Hotel
Perched high above the village of Uçhisar and just a ten minute walk away, this serenely beautiful and unique hotel is built from ancient ruins, caves and underground tunnels and is perfectly located for the exploration of all of Cappadocia's treasures. Celebrating Cappadocia's tradition of cave dwellings, the hotel provides 42 spacious rooms and suites that open onto balconies, terraces and secluded courtyards, often with splendid views of neighboring Güvercinlik Valley and distant peaks. Capturing the feel and texture of timeless stone and wood, each room is different, designed as a fusion of ancient and contemporary styles often using local artisans. All splendid suites even have their own private in-suite swimming pool.
Other features of the Argos in Cappadocia include the Seki Restaurant, with indoor and outdoor seating overlooking the valley and "fairy chimneys." It uses locally grown products and spices to create the ideal combination of regional cuisine with international fare. The hotel's huge wine collection, housed in its own caves, showcases bottles from its own Kalecik Karası vineyards as well as other Cappadocian selections.
Bezirhane, a spectacular event space over 26 feet high with giant stone walls and pillars, is situated in the two-thousand year old underground monastery and can accommodate up to 150 people, either for a wedding or special event. It is also an ideal setting often used for classical, jazz and Sufi music concerts. Depending on the time of year, events at the Bezirhane such as the annual Jazz in Cappadocia music festival and major art exhibitions are other enticements for a visit.
For further information: www.argosincappadocia.com