Menü

Firm Search





2nd Cross Golf Tournament was held in Cappadocia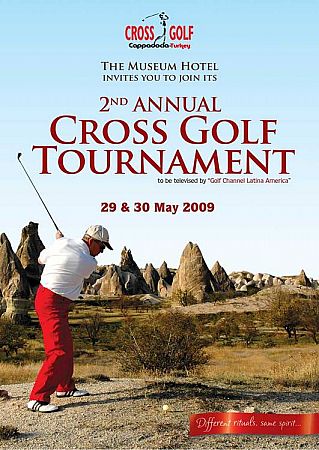 2nd Cross Golf Tournament was held between 29 and 30 May 2009 in Cappadocia by Cross Golf Cappadocia Company. Both the national and international press showed a great interest in the tournament which hosted 20 golf players from Argentina, the Netherlands, UK, Russia, Germany and Turkey.
The world's most prestigious golf channel Golf Channel broadcasted the whole activities. Museum Hotel, Gusta and Taşkonaklar were the main sponsors of the event and Red Bull contributed with its activities. At the end of the tournament Appie Cooskens from the Netherlands obtained the first place, Svetlana Andryukina obtained the second place and Carlos Ansede obtained the third place. The ones, who are placed, won 2 days accommodation in Museum Hotel.

| | | |
| --- | --- | --- |
| Reading: 5496 | | Date: 2010-04-09 |



Nevşehir Weather

Statistics

Total

:

1707525

visitor

s
Today

:

73

visitor

s
Yesterday

:

106

visitor

s

Loaded : 0.33 sec.