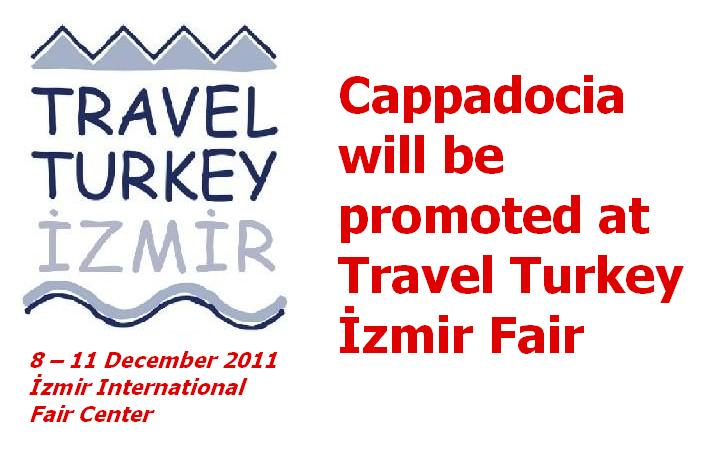 Travel Turkey İzmir Exhibition and Conference will be organised between December 08 - 11, 2011 in İzmir International Fair Center. For Cappadocia's promoting, "Destination Cappadocia" stand will be established at the exhibition. Avanos, Göreme, Gülşehir, Kaymaklı, Mustafapaşa, Ortahisar, Uçhisar and Ürgüp municipalities will take place in Destination Cappadocia stand.
The exhibition is organised for the 5th time by Hannover Messe International İstanbul, TÜRSAB (Association of Turkish Travel Agencies) and İZFAŞ (İzmir Fair Services Culture and Art Affairs Trade Inc.).
The Ministry of Culture and Tourism, TFYD (Turkish Fair Organizers Association), İzmir Trade Chamber, İzmir Visitors Convention and Tourism Corporation, WEC, İZRO (İzmir Tourist Guides Chamber), Ege Tourism Association, Turkish Airline, Anadolu Jet and Hürriyet supports the fair.
The exhibition will host about 500 exhibitors from different countries.
Partner country Holland, guest of honour country Greece, partner city Kütahya
2012 is the 400th year since the relations between Turkey and Holland started and Holland participates at travel Turkey İzmir 2011 as the partner country. As a result of this cooperation, including Dutch exhibitors and visitor delegations, efficient business deals are expected to be realized between Turkey, Holland and the other countries exhibiting at the fair.
Travel Turkey İzmir
Travel Turkey İzmir works to bring in new locations to the tourism sector and contribute to the country publicity. 585 exhibitors from 17 countries attended the fair which is prepared under the structure of Ministry of Tourism and Culture last year. 15.963 tourism professionals from 30 countries and 51 cities visited the fair.