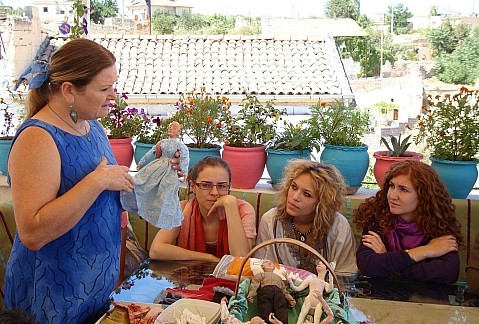 Young university students from different European countries met their counterparts from Turkey in Cappadocia. As part of the "Youth Art Bridge" project implemented by Sinasos University Youth Society, 20 Italian, Bulgarian, Spanish and Turkish students took part in the workshop organised at the Cappadocia Art and History Museum at the end of the August.
Following the workshop on the handmade dolls moderated by Museum's founder Ms. Radiye Gül, the students visited the Museum and watched the "Dream Museum" documentary about the Museum. Emphasizing the importance of mobility of art and artists, project coordinator Asuman Tongarlak said that the activities under the project serves to build international bridges of art between the past and the present. Ms. Radiye Gül underlined that it is very promising for the future to see young people's interest in the art, history and culture, and their dedication to come together and work actively on these issues.
Youth Art Bridge project aims at strengthening of mutual understanding and cultural dialogue among young university students from different countries. The participant students came from fine arts, cinema and communication departments of the European and Turkish Universities. Students will stay in Cappadocia for 9 days and take part in the various cultural and artistic activities. At the end of te project, a joint exhibition will be opened by the students in Cappadocia.
Cappadocia Art and History Museum
150 years old historical Greek House (in Mustafapaşa-Ürgüp) serves as Cappadocia Art and History Museum. The Museum was recognized and registered by the Ministry of Culture as the "Private Museum" in Turkey. The Museum's permanent exhibitions are composed of "ethnographic collection" and "handmade costume dolls collection" from Anatolia and the world. More than 2,000 works are exhibited at the museum. The Museum is open on Tuesday - Sunday between 10:00 - 18:00
For further information: www.kapadokyasanattarihmuzesi.com
The Museum is in the portfolio of the photographer Gilbert's "Most Special Interiors on the Silk Road"
Following her travel through the countries on the Silk Road, photographer and writer Lynn Gilbert indicated Cappadocia Art and History Museum in her "Most special Interiors on the Silk Road" Portfolio. Museum's photographs were chosen for a portfolio of 30 out of some thousand photographs taken by Gilbert.
Please see: http://lynn-gilbert.com/gallery/silk-route-interiors/