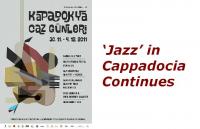 Cappadocia Jazz Days which started with the initiative of a small but determined team and attracted a big number of crowd in 2010, will take place between 30th of November and 4th of December this year. All the performances and activities will be free of charge and open to all public.
Organized by Kozmik Music, Cappadocia Jazz Days continues to blend jazz music into the magical natural and cultural atmosphere of Cappadocia in 2011. Drawing huge attention of the local, national and international press last year, Cappadocia Jazz Days is planning to attract a bigger number of crowd with its new activities in addition to the performances and meetings with the musicians.
The activities will be held in various historical and cultural venues in Cappadocia such as Kapadokya Kültür Merkezi (Cappadocia Culture Center), Anatolian Houses, Han Çırağan Restaurant, Argos in Cappadocia/Bezirhane, Hanedan Kervansaray Restaurant, Forum Kapadokya AVM, La Rocca, Cappadocia Vocational College and Nevşehir University. Swing A La Turc, İmer Demirer  Quartet & Ayşe Gencer, Onur Ataman Trio & Yahya Dai, Alp Ersönmez - Yazısız,  Ozan Musluoğlu Quartet & Meltem Ege ve Ülkü Sunat will be performing in these venues and come together with the public to talk about and discuss jazz music.
"Jazz for Youth"
The biggest surprise of the Cappadocia Jazz Days 2011 is the event titled "Jazz for Youth" which aims to introduce jazz music to young people. The workshop with different jazz musicians and Yahya Dai's computerised one man project "Plan B" will reach more than 1000 students and will create a sharing and learning atmosphere.
Cappadocia Jazz Days is funded/supported by the Ministry of Culture and Tourism, the Governorship of Nevşehir,  Nevşehir Province Private Administration, Nevşehir Municipality, Chamber of Commerce and Industry of Nevşehir, Nevşehir Mercantile Exchange, KAPHIB, Forum Kapadokya AVM, Argeus Tourism & Travel, Remax, Sentez, Tourist Hotel, Göreme Onyx, Voyager Balloons, Hadosan, Argos in Cappadocia, Anatolian Houses and Taşkonaklar.
The opening concert
The opening concert of the Cappadocia Jazz Days will host Swing A La Turc Quartet which brings together one of the most important ney artists, Şenol Filiz and jazz guitarist, Önder Focan. The concert will take place at Nevşehir Kapadokya Kültür Merkezi on the 30th of November at 20:30.
The Programme of "Cappadocia Jazz Days-2011"
November 30, 2011
Jazz Talk
Şenol Filiz, Önder Focan
Nevşehir University
14:00
**
Cappadocia Jazz Days Opening Concert
Swing A La Turc
Kapadokya Kültür Merkezi (Nevşehir)
20:30
December 01, 2011
Workshop
"Jazz for Youth"
Kapadokya Kültür Merkezi (Nevşehir)
14:00
**
Concert
Onur Ataman Trio & Yahya Dai
Han Çırağan Restaurant (Ürgüp)
21:00
December 02, 2011
Jazz Talk
Alp Ersönmez
Cappadocia Vocational College (Mustafapaşa)
14:00
**
Concert
Alp Ersönmez Quartet - Yazısız
Anatolian Houses (Göreme)
21:00
**
Jazz Nights
Ülkü Aybala Sunat Trio
La Rocca (Ürgüp)
23:00
December 03, 2011
Concert
Forum Kapadokya AVM (Nevşehir)
15:00
**
Concert
Ozan Musluoğlu Quartet feat. Meltem Ege
Hanedan Kervansaray Restaurant (Avanos)
21:00
**
Jazz Nights
Ülkü Aybala Sunat Trio
La Rocca (Ürgüp)
23:00
December 04, 2011
Concert
Forum Kapadokya AVM (Nevşehir)
15:00
**
Concert
Ayşe Gencer & İmer Demirer Quartet
Argos in Cappadocia / Bezirhane (Uçhisar)
20:30