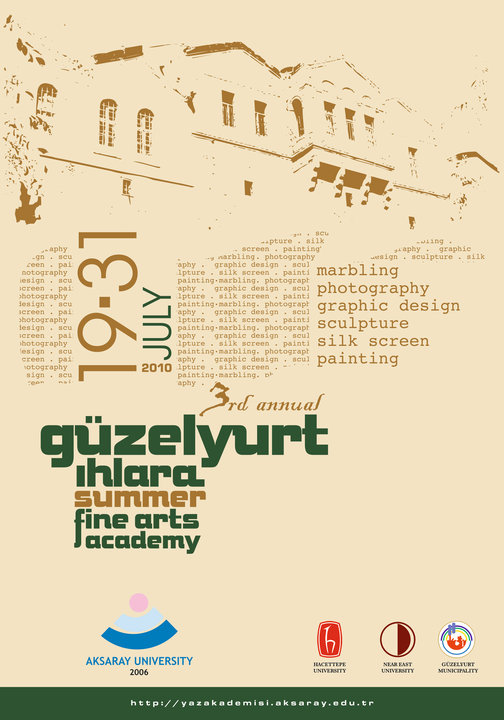 3rd International Güzelyurt/Ihlara Summer Fine Arts Academy will be organized on 19-31 July 2010 in Güzelyurt by Aksaray University Güzelyurt Vocational Training School in cooperation with Hacettepe University and North Cyprus Near East University. Marbling, photography, graphic design, sculpture, silk screen and painting workshops will be organized in 3rd Academy. The deadline for participation is July 5, 2010.
Cappadocia excursions for Academy students
Two excursions will be organized for students by Academy Organization. Details of the excursions are as follows:
24th July 2010:
Güzelyurt Monasteries Valley
Cami Kilise (Mosque Church, 4th c. AD)
Kızıl Kilise (Red Church, 6th c. AD)
Yüksek Kilise (Analipsis Church, 19th c. AD),
Gaziemir Underground City
Derinkuyu Underground City
Selime Cathedral
Ihlara Valley.
28th July 2010:
Ürgüp
Göreme
Avanos
For more information:
International Güzelyurt/Ihlara Summer Fine Arts Academy Organizing Committee
yazakademisi@aksaray.edu.tr
http://yazakademisi.aksaray.edu.tr/indexenglish.html