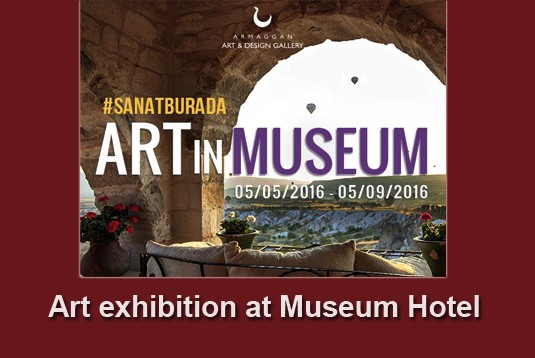 Artists of ARMAGGAN Art&Design Gallery are gathering in a very special exhibition at Museum Hotel (Uçhisar), which has a harmony with history of Cappadocia. The opening cocktail will be held on May 05th, 6 pm, with the participation of the artists. The cocktail is open to the public.
Exhibition can be seen until 05th September, 2016.
RSVP: 0384 219 2220
ARMAGGAN Art & Design Gallery
ARMAGGAN Art & Design Gallery, located on the third floor of Armaggan Nuruosmaniye, (İstanbul) was established to support aspiring young artists and give art-lovers a chance to discover new and creative ideas. In addition to building a name for itself locally, ARMAGGAN Nuruosmaniye Art&Design Gallery also seeks to earn itself a place on the international arts calendar by hosting exhibitions that draw worldwide attention to both Nuruosmaniye and Turkey. At the same time, the gallery also hopes to give its artists the opportunity to participate in international arts fairs.
The Historic Peninsula
ARMAGGAN Art & Design Gallery, located at the nexus of the Nuruosmaniye craftsmanship-design-production triangle, is noteworthy for an output of exclusive design items that does justice to its storied location. In accord with the philosophy of its parent brand, ARMAGGAN, which stands for excellence in design and production, the art and design gallery is a design and production workshop that serves as an incubator for a new generation of designers. Through talks and workshops held in conjunction with its exhibitions, as well as events encompassing the entire Nuruosmaniye district, the gallery seeks to reach out not only to the İstanbul arts community but also to the area's international visitors.