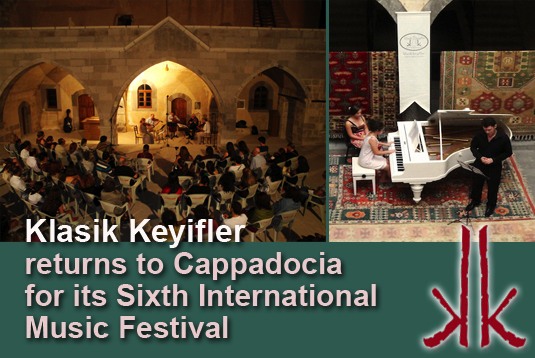 Klasik Keyifler (KK) returns to Cappadocia for its 6th International Music Festival, filling a myriad of magical spaces and historical venues with music. For a 3-week period from August 01-23, travelers and residents of the region will be treated to daily musical events, with small ensemble repertoire ranging from classical western genres through classical Turkish and classical jazz. Listeners will hear plenty of Mozart, Brahms and Dvorak; Ellington, Tatum and Miles; as well as some Cemil Bey, Dede Efendi and Cantemir; but the adventurous can also move through Stravinsky, Bartok and Enescu into newly composed works by the next generation.
The main geographical centers for concerts will be in Avanos in the gorgeous new underground Güray Ceramics Museum, as well as in several different venues in the town of Mustafapaşa where concerts will be held at the Aya Nikola Monastery, Eleni Church and an Ottoman medresse, restored and currently used by the Cappadocia Vocational College. Music lovers can also explore the area by attending musical events held at Casa do Ziya (Göreme), the Nevşehir Cultural Center, Turist Hotel Göreme, Uçhisar Castle, Fresco Mansions (Ürgüp), Cappadocia Culture Museum (Ortahisar), Seten Restaurant (Göreme), Muti@Prokopi (Ürgüp), House Hotel (Ortahisar), Cappadocia Art and History Museum (Mustafapaşa), Babayan Culture Center (İbrahimpaşa village) and Gamirasu Cave Hotel (Ayvalı). Daily morning music will echo through the Göreme Open Air Museum, a UNESCO Heritage site, in former monks' cells designated during the festival period as the "Baroque Cave" and the "Minimalist Cave."
The Cappadocia Vocational College is also the headquarters for the KK summer music academy, which in 2015 will host more than 100 young performers and composers from a number of countries. KK aspires to transcend the highly competitive nature of the music business by centering on the art of chamber ensemble playing, the least hierarchical of musical genres. The faculty is made up of exciting international performing artists who are equally dedicated to teaching, and participants will join from countries including England, Hungary, Afghanistan, Canada, Dubai, Belgium, Iran, Austria, Japan, Germany and US.
Funded in part through the generosity of the American Embassy in Ankara as well as the US-based non-profit Chamber Music Exchange, the festival profiles a number of American artists including violinist and professor from New England Conservatory James Buswell who recently recorded Ulvi Cemal Erkin's violin concerto with Istanbul State Orchestra; cellist Carol Ou from the Carpe Diem Quartet; Kurt Rohde a composer and professor at the University of California and recent recipient of the American Academy of Arts and Letters award; baroque specialist and cellist Elinor Frey; and violinist William Harvey, the founder of "Cultures in Harmony", an NGO that promotes cultural understanding through music in 13 different countries.
Additional artists joining the festival include baritone Ulf Bästlein, professor at the Graz Conservatory; German composer and guitarist Wulfin Lieske; Hungarian violinist and former principal of the Munich State Opera, Ildiko Moog; Atilla Aldemir, the solo violist of the Konzerthaus Orchestra Berlin; Ali Başeğmezler, violist and member of the Tetrakys Quartet, which was the recent winner of the "Rising Stars" concert series; and clarinetist Sacha Rattle and pianist Zeynep Özsuca Rattle, both founders of the innovative ensemble Berlin Counterpoint.
Well known performers residing in Turkey include violin soloist Özcan Ulucan (Mimar Sinan Uni); violist Tuba Özkan (Mersin Uni.); cellist Sinan Dizmen (Ankara Uni);, flutist Cem Önertürk (Bilkent Uni); kemence player Nermin Kaygusuz (Istanbul Technical University); Baglama player Cenk Güray (Yıldırım Beyazıt Uni.); pianist Jerfi Aji, composer Reuben de Lautour and percussion player Amy Salsgiver (MIAM); pianist Çağdaş Özkan (Uludağ Uni.); composers Onur Türkmen and Tolga Yayalar (Bilkent Uni.); conductor Orhun Orhon (Başkent Uni.); and pianist Birsen Ulucan.
KK is inaugurating a new Jazz program this summer directed by New York-based guitarist and composer Dave Allen. Joining him will be Sibel Kose, described by critics as Turkey's First Lady of Jazz. American bassist Matt Hall and Turkish drummer Cem Aksel will form the backbone of the trio.
Running parallel to the festival will be a fascinating exhibition of Hittite instruments that have been reconstructed from pictures on ancient vases. This is curated by Şehvar Beşiroğlu and will be on display at the Güray Ceramics Museum.
The KK Cappadocia Music Festival will culminate with the Bilkent Orchestra performing in several locations, including the magnificently restored Selcuk hospital complex Gevher Nesibe, a medieval center for music and healing. KK Artistic director of the festival and violinist Ellen Jewett, will perform as leader and soloist in the Vivaldi Four Seasons and bandoneon player Tolga Salman, will conclude with Piazzolla's Four Seasons.
Organized by the non-profit music association Klasik Keyifler Müzik Dernegi, additional funding comes from Bilkent University, MIAM- a research institute at Istanbul Technical University, by the Turkish Ministry of Culture, Turist Hotel, Sevda Cenap And Foundation, Muzgender Music Association, Akustik Pianos, Ontrol Company, and by numerous other local sponsors in the Cappadocia region.
PR sponsorship is provided by The House Hotel and TRT (Turkish Radio Televison) and 'Sanattan Yansımalar' TV programme, Kanal B, and Andante Magazine are providing media sponsorship.
Klasik Keyifler Cappadocia 6th International Music Festival Programme
Daily 10:30am at Göreme Open Air Museum
in the Baroque Cave and the Minimalist Cave (Free)

Aug 1 Saturday
21:00 KK Extravaganza at Eleni Church
Atilla Aldemir, violin and viola, Onder Baloglu, violin; Sinan Dizmen, cello; Sacha Rattle, clarinet; Zeynep Ozsuca and Cagdas Ozkan, piano;

Aug 3 Monday
18:30 KK Jam Session at Turist Hotel
KK Participants; guitar, flute, strings

Aug 4 Tuesday
17:00 Concert at KYMO (Free)
KK participants, all

Aug 5 Wednesday
21:00 Concert in Casa do Ziya; Gypsy Mix
Martinu, Dvorak, Tchaikovsky
William Harvey, Ildiko Moog and Ellen Jewett, violin, Atilla Aldemir, viola, Elinor Frey and Sinan Dizmen, cello

Aug 6 Thursday
17:00 Concert at KYMO (Free)
KK participants, all

Aug 7 Friday
21:00 Concert in Eleni Church; Impressions, Contrasts and Puppets
Enescu, Bartok and Stravinsky
Sacha Rattle, clarinet; Ellen Jewett and Onder Baloglu violins; Jerfi Aji, Zeynep Rattle and Cagdas Ozkan, piano

Aug 8 Saturday
13:00-16:00 KK Musical tour: Uçhisar Castle, Fresco Mansions, Cappadocia Culture Museum
19:00 at Güray Museum with lecture about Hittite project and exhibition (Free)
21:00 Concert Güray ; Alla Corda-String Music through the Ages
Şehvar Beşiroğlu, Okan Murat Öztürk, Erdem Şimşek Hittite instruments; Cenk Güray, bağlama; Nermin Kaygusuz, klasik kemençe; Oya Levenoğluö ud; Geleneksel Afgan sazları; William Harvey, Ildiko Moog ve Ellen Jewett, keman, Atilla Aldemir, viyola, Elinor Frey ve Sinan Dizmen, çello

Aug 9 Sunday
14:30 Concert Eleni Church (Free)
KK particpants
14:30 Cenk Güray and Dem trio in Kayseri Gevher Nesibe
22:00 Concert at Seten; East - West Baroque
William Harvey, violin; Elinor Frey, 5-string cello; Nermin Kaygusuz, kemence and KK strings

Aug 10 Monday
21:00 Concert Composers Cauldron at KYMO (Free)
Contemporary Works of Kurt Rohde, Tolga Yayalar and Reuben de Lautour

Aug 11 Tuesday
21:00 Concert at Guray Museum; Spirit of Melody
Ravel Duo and Dvorak Quintet
James Buswell and Ellen Jewett violins, Tuba Ozkan, viola; Carol Ou, cello and Jerfi Aji, piano

Aug 12 Wednesday
18:30 Concert at Babayan Gallery; Idyl for the Misbegotten (Free)
Amy Salsgiver, percussion, Filiz Karapınar, flute and Reuben de Lautour, electronics
21:00 Concert at Eleni; The Art of Lied
Ulf Bastein, baritone and KK participants, Zeynep Ozsuca and Cagdas Ozkan

Aug 13 Thursday
18:30 KK Jam Session at Turist Hotel(Free)
21:00 Concert Composers Cauldron at KYMO
10 Premiers of new works of KK participant composers

Aug 14 Friday
21:00 Concerts at Eleni; Brahms Pentacles
Brahms Clarinet Quintet and Piano Quintet
Kivanc Tire and Aysen Ulucan, violin; Ozcan Ulucan, viola; Elinor Frey, cello; Birsen Ulucan, piano and and Sacha Rattle, clarinet

Aug 15 Saturday
13:00-16:00 KK Musical tour Uçhisar Castle, Fresco Mansions, Cappadocia Culture Museum
20:30 pre concert show of Herkes İçin Müzik/Passacaglia participants and Cappadocia and Kayseri kids. (Free)
21:00 Final Student/Faculty concert at Eleni Church (Free)

Aug 16 Sunday
21:00 Casa do ZiyA, Göreme; Dave Allen Trio featuring Sibel Köse
Dave Allen, guitar, Matt Hall, bass and Cem Aksel, drums

Aug 17 Monday
18:30 Jazz at House Hotel, Ortahisar;

Aug 18 Tuesday
18:30 Jazz at Turist Hotel
21:00 Güray Museum, Avanos; Intimate Jazz
Dave Allen, Sibel Kose and KK string quartet

Aug 19 Wednesday
18:30 Jazz at Gamirasu
21:00 Jazz concert Eleni
KK participants and faculty

Aug 20 Thursday
18:30 Jazz at Turist Hotel

Aug 21 Friday
19:00 Nevsehir Cultural Center; A Season for Everything
Vivaldi and Piazzola
Bilkent Chamber Orchestra
22:00 Jazz Finale; Muti at Prokopi

Aug 22 Saturday
21:00 Güray Museum, Avanos; A Season for Everything
Vivaldi and Piazzola
Bilkent Chamber Orchestra
Aug 23 Sunday
14:00 Kayseri Gevher Nesibe Museum : A Season for Everything
Vivaldi and Piazzola
Bilkent Chamber Orchestra