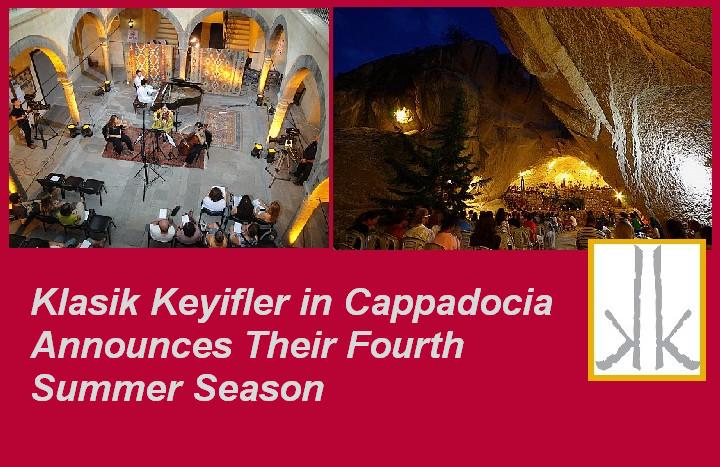 Klasik Keyifler*, the acclaimed chamber music series based in Turkey's scenic Cappadocia, announces their fourth year with a summer season that will run from July 25 to August 22 with 20 concerts and 7 workshops. Klasik Keyifler specifically focuses on small ensemble repertoire, works side by side with living composers, and trains advanced-level students every year.
This year, Klasik Keyifler will host over 100 performers from Holland, Greece, Austria, Italy, Syria, Turkey, and the United States, in programs ranging from Ottoman classics to numerous premieres of new works. Included is a celebration of the 150th birthday of composer Claude Debussy, as an example of a musical visionary, with French repertoire.
Ricciotti Ensemble
Participating ensembles from abroad and Turkey include the Ricciotti Ensemble, members of the Atlas Ensemble, Anatolia Ensemble, Idée Fixe, and the Ankara University Soloists. Scheduled are master classes for oboe with Ernest Rombout from the Amsterdam's Nieuw Ensemble, flute with Elena Cecconi from the Genoa Conservatory, clarinet with Nusret Ispir from Bilkent Orchestra, violin with Harald Herzl from the Mozarteum in Salzburg and violin and piano with Ulucan Siblings.
"From the Composers' Cauldron"
During August 01-14 will be a series called "From the Composers' Cauldron" featuring new and recent works by Stephen Hartke, Kamran İnce, and Onur Türkmen and 12 selected composers from the workshops with these three. During that period, Cyrille van Poucke, principal trumpet of the Dutch Radio Orchestra will join Tolga Zafer Özdemir, professor of composition at Bilgi University in İstanbul, for a special class in creative music-making and improvisational techniques. There will also be post-concert conversations with the music writers and musicians.
The chamber music performances, master-classes, workshops, and recording sessions are scheduled throughout the month-long festival in several historical venues in the nexus points of the East/West Silk Road trade routes in central Turkey. Klasik Keyifler uses medreses, castles, natural caves, monasteries, churches, oil presses, and hotels in the charming villages of Ürgüp, Nevşehir, Mustafapaşa, Göreme and Uçhisar for their programs.
About Klasik Keyifler
Klasik Keyifler is the project of American violinist and renown chamber musician Ellen Jewett and her Turkish husband Hüsam Süleymangil. Together, they combine their complementary expertises of seasoned music professional and Turkish tour industry professional to arrange one of Turkey's most inspired and enjoyable ways to enjoy an artistic summer in this exotic and magical destination. The generous auspices of USA Embassy Turkey, Argos in Cappadocia, Cappadocia Vocational College, Gallery Cappadocia, and Argeus Travel Services and other sponsors in this region make it possible for Klasik Keyifler to bring their programs to the heartland of Turkey.
For complete festival details, please see http://www.kk-en.org/
Location and direction info for concert venues is at: http://goo.gl/maps/2k1P
*"Keyif" is the Turkish word for having reached a state of euphoria. "Keyifler" is the plural.