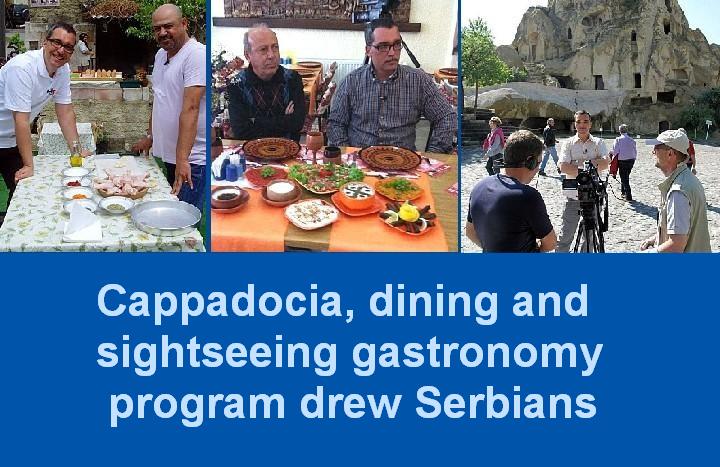 Serbia RTS 1 TV "GastroNomad" program, was shot in İstanbul and Cappadocia. Ürgüp in Cappadocia organization that serves shots Albunea Travel's owner and English tour guide was carried out by Ali Murat Yıldız. Haricot beans (cooked in clay), mantı (Turkish ravioli), testi kebab (meat cooked in clay), roast chicken, bread, pancakes and dolaz (a special dessert from Cappadocia) were made for the program. For the shoot, offering local dishes, Papayani Restaurant (İbrahimpaşa), Village House Restaurant (Göreme), Tafana Restaurant (Avanos) and the Sultan Restaurant (Ürgüp) was preferred. For the promotion of Cappadocia, Göreme Open Air Museum, Dervent Valley, Avanos and Zelve were shot by the team also. The program presented by Chef Nenad Gladić and will be released after a month in Serbia.
Addressed by giving priority to the cuisines of countries introducing GastroNomad program team was Turkey recently. Chose to introduce Turkish cuisine in five-person team in İstanbul and Cappadocia, held on 06-08 May 2012 in Cappadocia. Albunea Travel's owner who organized the shoot, and ten-year English tour guide, Ali Murat Yıldız said:
"The producer Sinisa Dokić, the director Ivan Nikolić and the cook Nenad Gladić were very pleased with the shooting. The team really felt sorry for their commitment to devote more time to Cappadocia. Because the nature of Cappadocia, were very impressed by the history and culture. Attracted interest in spaces carved into the cave. In particular they found a very tasty dishes made tandoor. We also stayed here in time did our best to evaluate the most efficient manner. I think that many production companies, cultural and touristic point of Cappadocia Advance Productions, introducing a program in the coming months plans to shoot more."
Shoot began with the burning tandoor
Ali Murat Yıldız said:
"Shoot began with the burning tandoor by brushwood and dishes made since the preparation stage. Then the dishes done and ate with cook together. I began my professional career working in the restaurant many years ago and the roast chicken made by me for the shoot. I believe that being able to happy guests from the region, the path passes through the stomach. Cappadocia delicious cuisine and the region in terms of introducing such programs find it very useful."