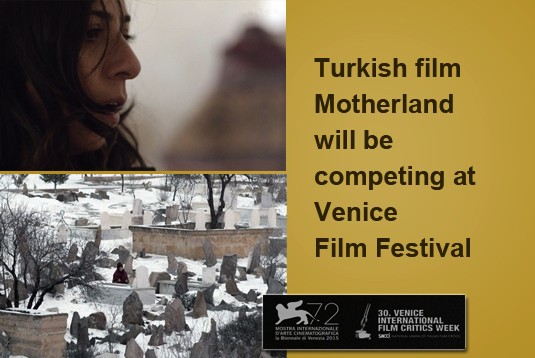 Senem Tüzen's first feature film "Motherland" will be competing at 72nd Venice International Film Festival for the Lion of the Future Award. The festival will be held between 02-12 September 2015. Motherland will be shown at the International Critics' Week, a parallel and independent section of the festival. Motherland filmed in 2014 in Altunhisar (Niğde-Cappadocia).
Motherland (Ana Yurdu) is a feature film with an original script by the director Senem Tüzen. The project has support for both development and production from the Turkish Ministry of Culture. While in development, juries awarded it "Best Project" at Thessaloniki Crossroads and Connecting Cottbus co-production markets as well as the Meetings On The Bridge Award in Istanbul.
The story of Motherland
Nesrin is an urban, upper–middle class woman recovering from a divorce. She's quit her office job, abandoned her house in Istanbul, and come to the village house of her deceased grandmother to finish a novel and live out her childhood dream of being a writer. When her conservative and increasingly unhinged mother turns up uninvited and refuses to leave, Nesrin's writing stalls and her fantasies of village life turn bitter as the two are forced to confront the darker corners of each other's inner worlds. Cast; Esra Bezen Bilgin, Nihal Koldaş, Fatma Kısa and Semih Aydın. Director of Photography; Vedat Özdemir.
Senem Tüzen
Senem Tüzen, born in Ankara in 1980, holds a degree in cinema and television from the Mimar Sinan Fine Arts Academy of İstanbul. Her short film Unus Mundus won the Turkish Film Critics Association's Best Short Award in 2009. The same year, her short film Milk and Chocolate was nominated for the same prize. She has also worked as an editor, cinematographer and producer on short, feature and documentary films. Her first feature film Motherland will premiere in 72nd Venice Film Festival in the Internaional Critics' Week.